Since 1987, I've been teaching classes in sketching, drawing, ink/watercolor sketching, watercolor painting, travel sketching and workshops for a variety of organizations including including at Arizona State University, the Canossian Spirtituality Center, and for Masterworks of Albuquerque as well as my own private classes.  I also offer personal one-on-one or small group tutoring.  I enjoy working with students at all levels.
Please send your contact information to karin@thekarin.net for additional information or if you would like to be included in future email notices about upcoming classes!
THREE NEW CLASSES COMING IN 2018!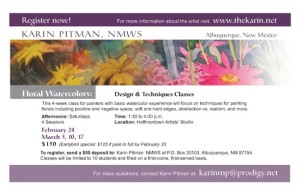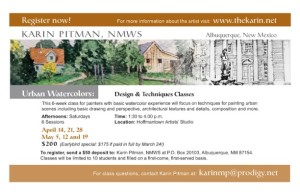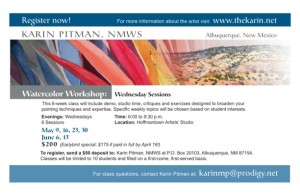 These classes will be held at The Artists' Studio in the west end of Hoffmantown Shopping Center.  Feel free to contact me with any additional questions you may have and/or for a materials list for any of the classes. (click on image for better viewing)
Previous Courses I Have Offered Include:
FIELD SKETCHING ACADEMY at Los Poblanos Historic Inn and Cultural Center In 2013, I offered classes in Ink Sketching, Watercolor Sketching, and Ink/Watercolor Sketching at Los Poblanos Historic Inn and Cultural Center.                                       '
Travel Sketching on Location.  Sketching/painting at a different site each week where I share my technique of using permanent ink for sketching followed by quick watercolor for color.  (See Notecards and Ink/Watercolor portion of Sketches under my Gallery tab to see examples of this type of my work.)  Individual critiques based on student skill. 
Ink/Watercolor Sketching, a 6-week class that covers the basics of drawing in ink, watercolor basics and some skills for combining the two into successful compositions.
Basic Drawing for Painters, a 4-week class that covers the drawing basics of value, shape, light source, basic perspective principles, and composition.
 Design-Color-Line, 3 Day Workshop, Masterworks NM, 2011