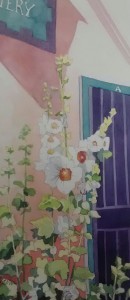 You can now buy two of my Los Poblanos note cards, Red Tractor and Los Poblanos Inn, on the Los Poblanos website store at: http://www.lospoblanos.com/thefarmshop/catalog/books-and-cards
Let's Paint New Mexico Challenge
You can find my work on Let's Paint New Mexico, a blog created by New Mexco artist Dee Sanchez. Photos of New Mexico scenes are issued periodically and all artists paint from the same images.  It's always fun to see the many different interpretations of each photo.  I participate in the challenges as often as I can, and I have sold many of these paintings I've completed.  Our work can be seen either on our Facebook page called "Let's Paint New Mexico!" or, on the web at https://letspaintnewmexico.wordpress.com/
Two of my architectural renderings for The Stagecoach Inn in Santa Fe were published in the October 2011 issue of Builders News magazine.  The project highlighted was the renovation of Stagecoach Inn to affordable housing by IDeA (Integrated Design and Architecture) in Albuquerque.
Jim Leggitt's book "Drawing Shortcuts" includes one of my drawings.  He included this blog about my cards of Los Poblanos Farm in his blog last year,  click here to view.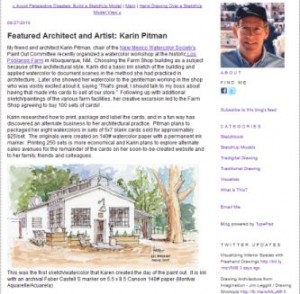 Here's one of my paintings that was published in both Architectural Record and ArchRecord2 along with a poem accompaniment (no longer available online).